At my last art show, I was shocked at the number of people who wanted my  kids Cool Cats Wear Glasses t-shirt in adult sizing.  I shouldn't be though - cats are the sweetest, most loveable creatures, so who wouldn't want to celebrate kitty cuteness on a t-shirt?  I printed my drawing of our kitten, Scratchy, on adult sized, organic cotton t-shirts, and I'm so happy with how they turned out.  These t-shirts are a different material than the kid version, but I did keep the color green.  I think it adds whimsy to the design.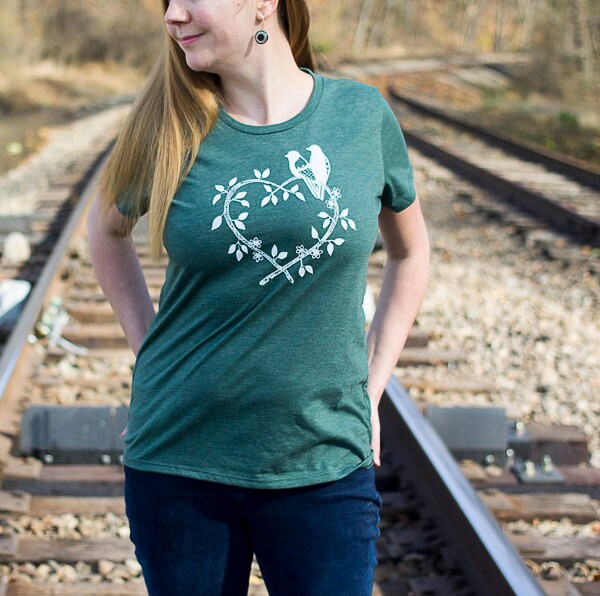 Americana Birds is inspired by my grandmother's house.  My favorite Christmas ornament she had on her tree was a hand sewn, embroidered bird.  The decorative stitching made it so special, I used to marvel at how thread could look so ornate.  Hanging in her kitchen window was a twig formed into a simple wreath.  I changed that wreath from a circle to a heart for sweetness, and added a pair of ornate  love birds on top.  My favorite part of this is the woodgrain of the branch heart.  
A look at my drawing: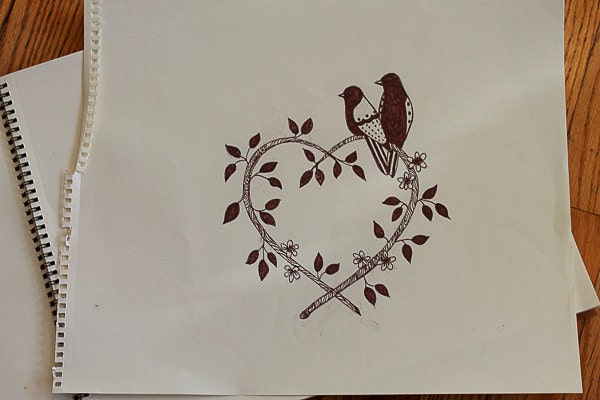 You can find these tees on my website, and I will be bringing them with me to my next show, Handmade Holiday in Richmond, VA on December 2 and 3rd.  Hope to see you there!